SANITARY PROTOCOLS FOR THE PREVENTION OF COVID-19 AND CANCELLATION POLICIES
Book your trips with confidence and security with Ecogetaways Travel
We are happy to share with all our colleagues, clients and friends; that we have proudly become one of the first DMC' s and tourism enterprises in Costa Rica in achieve the Safe Travels stamp from the World Travel & Tourism Council ( WTTC).
"We are sure this global initiative will be an excellent way to provide our future clients an important signal of security and trust. We will be taking care of every single detail during our client's vacations in Costa Rica, offering a blend of luxury travel experiences with strong sanitary protocols, always committed with the safety of our clients and the highest standards in sustainability. '' - Silvia Vargas, President & CEO
Along with the WTTC protocols, Ecogetaways Travel will consolidate all codes required by the local government authorities in all the destinations where we operate, integrating our staff, clients, stake holders and suppliers.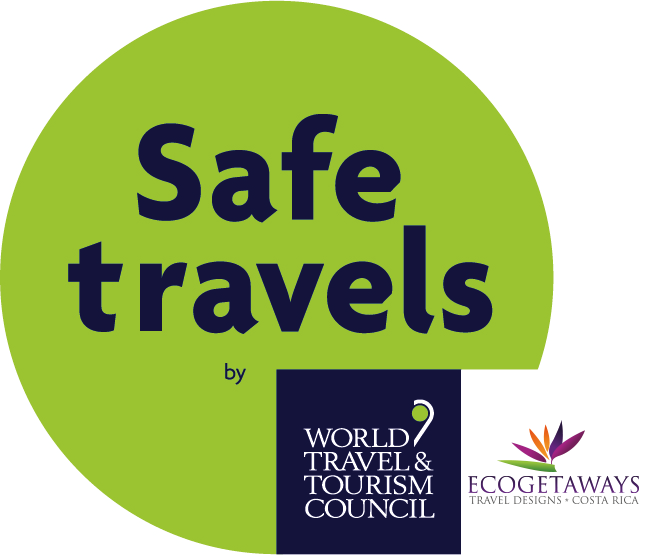 RESERVATION AND CANCELLATION POLICIES FOR COVID-19
Ecogetaways Travel along with it' s suppliers, is currently offering more flexible reservation policies, in order to give it' s clients the possibility of planning their future trips with complete peace of mind and security.
For new reservations made with a view to traveling during the next months of 2020 or 2021, the client may change or cancel their reservation up to 30 days before the date of their trip, in the event of any situation related to COVID. -19. Additionally, you will be given a credit to reschedule your next trip, which is not transferable or refundable.
Situations related to COVID-19:
That the government of Costa Rica place restrictions that prohibit the entry of visitors, such as closing borders or extending mandatory quarantine requirements.
That international flights are cancelled, and the client does not have the possibility of leaving the country to his next destination or to his country of origin according to the date programmed in his itinerary.
Other aspects:
Some exceptions or penalties may be applied, which will always be notified in advance at the time of receiving the confirmation of each reservation.
New fees or additional costs may be applied at the time of rescheduling and organizing the new date for the rescheduling of the trip.
The client will be responsible for non-refundable costs from the airline, travel insurance and any other cost not included in the itinerary or service purchased.
Each hotel or supplier maintains it' s specific terms and policies; which will always be notified to the client in the moment of receiving the confirmation on each reservation.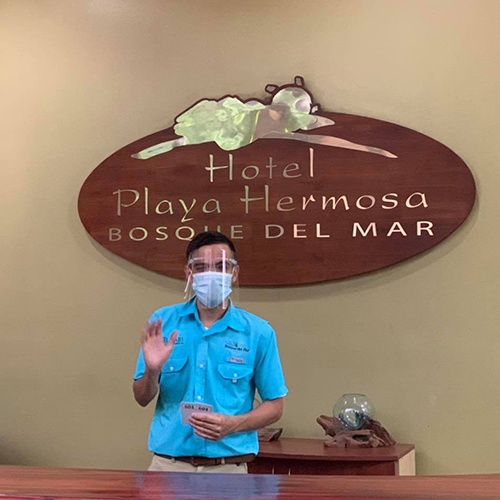 ECOGETAWAYS SANITARY PROTOCOLS FOR THE PREVENTION OF COVID-19
The purpose of these protocols is to share the guidelines that Ecogetaways Travel uses to face the Covid-19 pandemic.
We are committed in offering a balance between world-class health and prevention measures and at the same time; maintain the eco-luxury concept of our company.
Actions are currently being taken in all departments, suppliers and services of the company; to guarantee a safe environment to all our staff and each one of our clients; avoiding the spread of the virus.
The following guidelines will be extended until the situation is controlled and the measures are allowed to be more flexible. What is described could be subject to modifications depending on the epidemiological risk that the country may face.
Protection Measures by Areas:
1. General measures:
Stay duly informed by official means about health recommendations and health protocols.
It is strictly forbidden for people with symptoms or signs of colds or flu to attend work or meeting places.
Constantly verify that health protocols are being applied in all areas:

Cover your mouth and nose with disposable paper when coughing or sneezing.
If you do not have disposable paper, use your forearm when coughing or sneezing.
Carry out correct and frequent hand washing ***
Avoid touching your eyes, nose and mouth

Avoid contact with people with respiratory diseases (runny nose, nasal or conjunctival congestion, cough, watery eyes, feverish appearance).
Use alternative forms of greeting between staff and clients where there is no physical contact.
If you have traveled to countries with active transmission of coronavirus and have symptoms, see a doctor.
Maintain social distance (1.8 meters) between staff and other clients.
Identify and maintain the social distance between '' social bubbles.''
*** Hand washing protocol
All employees and clients must wash their hands following these guidelines:
Before touching his face.
Before preparing and / or eating food.

After going to the bathroom.
Before and after changing diapers.

After coughing or sneezing.
After caring for a person with respiratory symptoms.

After throwing out the trash.
After being with pets or around animals.

Before and after using the transport.
After being in public areas.

After touching money, keys, mobile phones, tablets, laptops, cameras, etc.
After touching handrails or door handles.

Washing should be done with plenty of soap and water for at least 30 seconds.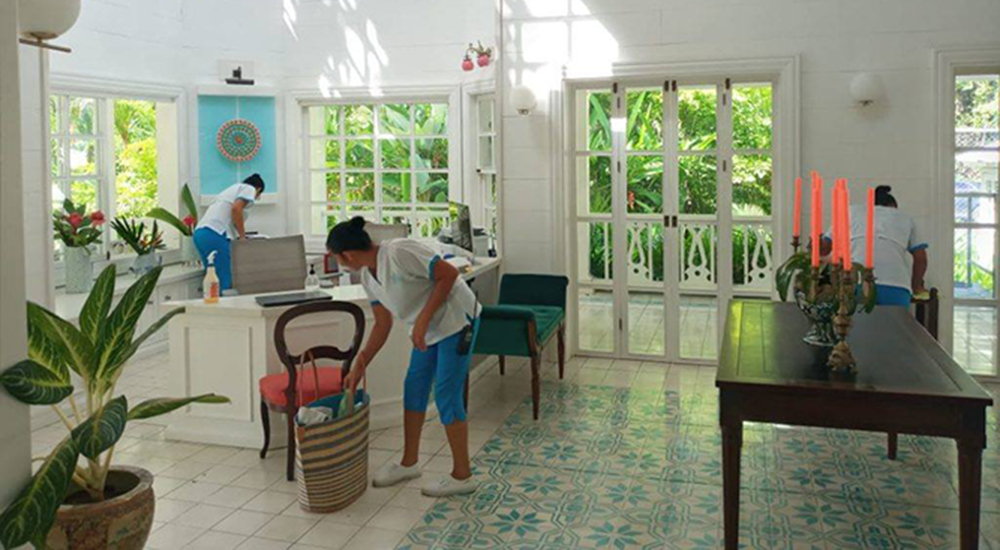 2. Management
The Management must be informed about the constant changes in the prevention of COVID 19 and share this information to the collaborators. It must also ensure compliance with the protocol established for prevention; through face-to-face meetings and using digital messaging means (WhatsApp, Telegram, etc.).
Manager must train a coordinator who defines roles and responsibilities during the preparation and response process for an eventual risk situation due to the detection of Covid-19 symptoms.
Guarantee the supply and access to personal hygiene products during the working day for both employees and visitors. Such as soap, paper towels, disinfectants, alcohol gel (diluted at least 70%), masks and / or protective face shields.
Maintain constant vigilance over staff and clients to verify the health status of each one and in case of finding someone with symptoms of Covid-19, access to health services for assessment should be facilitated.
Report to 911, collaborators and / or tourists with respiratory symptoms ** that indicate symptoms of Covid-19.
** Protocol in case of detection of people with respiratory symptoms:
Put on the gloves.
Provide a mask to the suspected person and proceed with washing the person's hands.

Take her to an isolation area.
Inform the Operations and Management office.

Call 9-1-1.
Disinfect the place where it was at the time of detection and everything it has touched.

If there are more tourists close to the patient, the medical authorities should be notified.
3. Ecogetaways Staff
Through the Human Resources department and the support of the managers, all collaborators are indicated that they must:
Know in depth the protocol in case of detection of suspects, as well as the most up-to-date symptoms of Covid-19.
Maintain hygiene and prevention measures (such as hand washing, social distancing, and wearing masks) at all times, during working hours.
During working hours, guides and drivers must wear protective masks.
Maintain an attitude of respect towards anyone who has presented symptoms or has been diagnosed with Covid-19.
Inform the company about any symptoms or health condition that puts your life and that of your colleagues at risk.
Participate in the training that is carried out on the coronavirus and health protocols.
Communicate immediately if you have been in contact with a positive Covid-19 case.
Guides or drivers must receive clients according to the aforementioned measures and explain to visitors the importance of following the guidelines.
Guides and drivers must have alcohol gel, antibacterial liquid soap and wet wipes in their first aid kit.
In the event that a collaborator has a high temperature (38 ° C or more), she / he will not be able to work, she / he will be reported to the person in charge, the health authorities will be notified and will be sent for the test immediately.
Maintain the mandatory social distancing of 1.8 m
4. Suppliers:
The health protocols of all providers will be requested and verified and Ecogetaways Travel will share their protocols with them.
Ecogetaways Travel It will only contract the services of providers that adhere to the measures and protocols required by the Ministry of Health.
5. Recommendations to the traveler
Clients will be able to obtain updated information on the current situation in Costa Rica from the official source of the Ministry of Health before, during and after their trip.
Consult the doctor before the trip. It is recommended that anyone who intends to travel should consult a doctor prior to travel.
Assess the health risks associated with the trip. Doctors base their recommendations, including vaccinations and other medications, on an individual risk assessment for each traveler.
Medical kit. It is recommended to travel with enough medical supplies for all foreseeable needs for the duration of the trip.
Travelers with pre-existing medical problems and special needs: these travelers are strongly advised to request information from their doctor prior to the trip and to inform their tour operator about these diseases and the medications they use before their trip; in order to assist you in the best way and to be prepared in case of an emergency or unforeseen event.
Take precautions before, during and after the trip.
Medical examination after the trip. Travelers should inform the medical staff of their recent trip, including the destination, purpose and duration.
6. Measurements before, during and after your flight.
6.1 Before boarding:
Maintain social distancing at the airport
Prepare a kit with basic biosafety supplies such as masks, gloves or antibacterial gel.
Keep all the documents required for your trip at hand.
Remember to keep your carry-on luggage as light as possible to respect the spaces on the plane and social distancing.
Check in online
6.2 In flight:
Use the mask at all times.
By provisions of aeronautical organizations, crews must keep social distancing, therefore, they will not be collaborating with the location of luggage.
Remember to bring your own entertainment equipment, as airlines are limiting the delivery of headphones, magazines or other reading materials.
6.3 Upon arrival at the destination.
Maintain social distancing when leaving the airport.
Follow the mandatory protocols at airports dictated by the Costa Rican health authorities.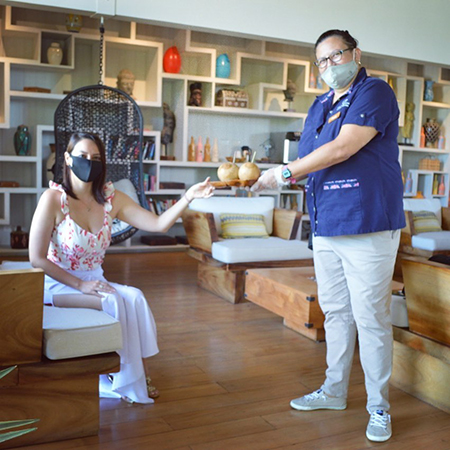 7. Facilities
Operations center and offices
The offices will be disinfected at the beginning of the working day, at the change of shift and at the end of the working day. Shared desks, chairs, windows, printers, door handles, computers, telephones, dataphones, and instruments must be kept clean at all times.
Each office desk should have at least 1.8 meters of distance between each one.
The facilities will show all the graphic prevention, updated and provided by the Ministry of Health.
You must have a visible cleaning log.
All tables and chairs should be disinfected at the beginning and end of each workday and after each use.
All cutlery must be completely disinfected and wrapped to be delivered individually to diners.
8. Transfers
All transfers will be private and the interior of the vehicles will be cleaned and disinfected in its entirety at the beginning and end of each service.
Drivers and guides must use masks or face masks, according to the recommendations issued by the Ministry of Health.
Each vehicle has its own personal hygiene kit (alcohol gel, antibacterial liquid soap and wet wipes); It must have a digital thermometer to measure the temperature of visitors and collaborators, and have additional masks.
Customers' luggage must be disinfected with a sprayer with an alcohol-based solution of at least 70%, disinfectant or any other cleaning product duly endorsed by the Ministry of Health, before introducing it into the transport units.
Customers should be informed about the protocols for hand washing, sneezing and coughing, not touching the face and other forms of greeting.
Customers must wash their hands or use alcohol gel each time they get on the transport unit during the service.
Natural ventilation should be promoted in land vehicles. In case of the use of air conditioning, verify with the carrier its proper maintenance, according to the protocols established by the transport company.
Ensure that customers during land tours in the transport units use masks.
8.1. Procedure for visits to places of interest during the itinerary.
Inform clients about the importance of maintaining social distancing in places of interest or during the tour. In addition, it will be informed if it is necessary to continue with the use of face masks.
Graphic information material will be deployed in all facilities and vehicles, updated and provided by the Ministry of Health.
The air conditioning must be used with air exchange and not circulating and the outlets will be disinfected every day.
Reduce, according to the indications of the Ministry of Health, the maximum capacity of people in the facilities, tables, vehicles, equipment and "clients per guide".
9. Tours
All tours and activities will be offered "privately" and / or respecting the recommended guidelines for social distancing.
Information on itinerary, vouchers or recommended activities in each area will be shared digitally.
9.1. Transportation for Tours
Each vehicle has its own personal hygiene kit (alcohol gel, antibacterial liquid soap and wet wipes).
The air conditioning will be used with air exchange and not circulating.
Each vehicle is labeled with the correct way to sneeze and cough in Spanish and English.
Each vehicle must be completely disinfected before each working day and between each service.
The maximum capacity of vehicles must be reduced in accordance with the guidelines issued by the Ministry of Health.
The maximum number of people per guide will be 8-10 people in regular mode.
All equipment provided by the guide must be disinfected before and after each client.
Keep alcohol gel, antibacterial liquid soap and wet wipes available at the time of enjoying the snacks or if lunch is included, the restaurant measures should be taken.
The maximum capacity of people per raft in the rafting tours will be 4 people.
The maximum capacity will be 50% of capacity in the case of the zip line tour, hanging bridges or any adventure park.
9.2 Boats:
The maximum capacity of the vessels is reduced in accordance with the guidelines issued by the Ministry of Health. (50-65%)
The boats must be disinfected before and after each tour (seats, handles, vests, edges, masks, snorkel).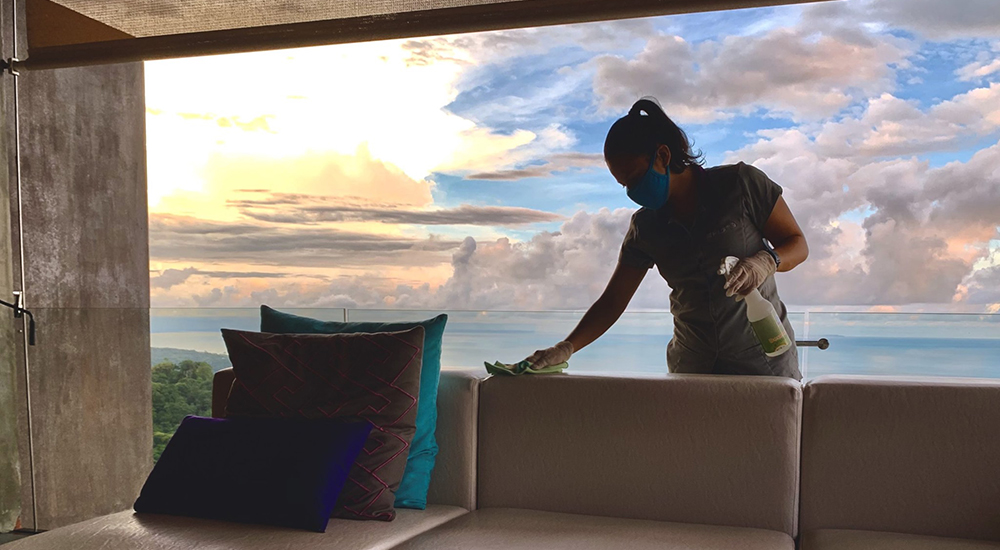 10. Hotels and accommodations:
Ecogetaways Travel has made an extensive inspection of the hotels and accommodations that will be recommended to clients, ensuring that all of them comply with high levels of security and rigorous protocols.
Our clients will be reminded that they must maintain social distancing from the staff and other guests who are in the hotel.
The common and busiest areas of the recommended hotels have hand disinfection stations and have increased the frequency of their cleaning protocols every hour, for which they have dedicated staff with certified cleaning products.
Temperature control: It will be done to 100% of the people (clients, collaborators and suppliers).
10.1 Check-in:
Check-in will be done by only 1 person per room, the other guests will wait comfortably in the lobby enjoying a welcome cocktail.
Upon admission, they will be asked to complete a health survey (Review of health status and / or closeness with people affected by Covid-19) for merely preventive purposes.
The luggage will be disinfected before and after contact with our collaborators.
Room keys (bracelets) undergo a disinfection process between each use.
Payments will be made by cards, using the contactless card reader so that the guest is the one who handles the card at all times.
*** Check in policies may vary between each hotel.
11. Food and Beverages:
All meals will be served à la carte (not buffets) with ample space between tables and with reinforced hygiene protocols.
Tables and chairs will be disinfected after each use.
The capacity of 50% will be respected and the recommendations on the distance between each table will be maintained.
12. Pools:
There is no evidence that Covid-19 can be transmitted to humans through the use of swimming pools and hot tubs.
Its operation, maintenance, cleaning and disinfection is daily. For this, there is an established procedure which is based on the regulation on the management of swimming pools of Decree No. 35309-S of 03/30/2009.
Employees will ensure that the pools do not cause crowds of people. Respecting 50% the capacity in each of the areas.
General remarks
Disinfections will be carried out with the following solutions, indicated by the Ministry of Health:
70% alcohol or commercial disinfectants frequently.
Household disinfectant containing chlorine at a 1: 100 dilution (1 part chlorine and 99 parts water), prepared the same day.
Chlorine water solution in these proportions: 10 ml of 5% chlorine for each liter of water, prepared the same day.